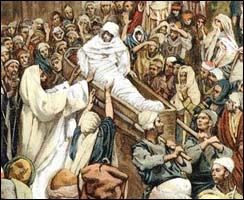 Soon afterward he went to a town called Nain, and his disciples and a great crowd went with him. As he drew near to the gate of the town, behold, a man who had died was being carried out, the only son of his mother, and she was a widow, and a considerable crowd from the town was with her. And when the Lord saw her, he had compassion on her and said to her, "Do not weep." Then he came up and touched the bier, and the bearers stood still. And he said, "Young man, I say to you, arise." And the dead man sat up and began to speak, and Jesus gave him to his mother. Fear seized them all, and they glorified God, saying, "A great prophet has arisen among us!" and "God has visited his people!" And this report about him spread through the whole of Judea and all the surrounding country.
Nain was a city of Galilee about six miles south of Nazareth, on the northwest slope of the Hill of Moreh. It is the same place where Gideon attacked the Midianites. Possibly Jesus and his disciples had been through before, and the townspeople surely knew of this miracle worker. Jesus is followed by a huge crowd, and as they neared the gate of the city they were met by another large crowd trying to carry a body out of the city. (I picture Black Friday crowds jostling for position here!)
The second crowd follows a wailing widow. She has lost her only son, a fate many today would consider unbearable. But as a widow in this time she could not inherit property, and anything she owned would revert to her husband's closest relative upon the death of her son. In one moment this woman had lost love, hope, and any security in her life. She certainly needed help from God.
Jesus' heart overflowed with compassion as he comforted the mother, although I have to imagine that she thought the Aramaic equivalent of "yeah right" when he instructed her not to weep. The bearers of the open coffin stood still as Jesus approached. I imagine they were waiting for some insightful teaching. No one expected what would happen next. With a command from the Son of God, the young man sits up and begins to speak! Don't you wonder what he said?
Jesus lifts the young man from his coffin and hands him to his flabbergasted mother. Both crowds are seized with awe at what has happened and begin rejoicing. They imagine Jesus to be a prophet in the style of Elijah or Elisha, missing the grander point, but they cannot help but realize that God had visited his people. Of course the Galilean grapevine lights up with the story that spreads even through Judea.
Any of us who have attended funerals can imagine how amazing it would be were the dead to rise up with a healed body and words of praise on their lips. But Jesus' miracles were not simply performed to reward faith and show his kindness. He shows his power over even death. John writes that the miracles were performed and recorded so that all who hear would believe
that Jesus is the Messiah, the Son of God, and that by believing you may have life in his name
(20:31). This is also a symbol of how Jesus has power over our spiritual deadness. He has the power to raise our dead spirits and breathe true life into is. As tragic as physical death can be, spiritual death is a fate far worse.
This is the promise which He Himself made to us: eternal life
(1 John 2:25). Those of us who have placed our trust in him have nothing to fear in life or death!
Because God's children are human beings—made of flesh and blood—the Son also became flesh and blood. For only as a human being could he die, and only by dying could he break the power of the devil, who had the power of death. Only in this way could he set free all who have lived their lives as slaves to the fear of dying. - Hebrews 2:14-15