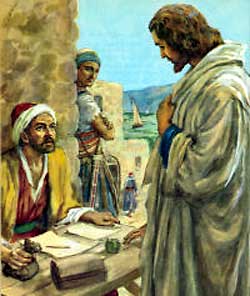 After this he went out and saw a tax collector named Levi, sitting at the tax booth. And he said to him, "Follow me." So, leaving everything behind, he rose and began to follow him.
A
nd Levi made him a great feast in his house, and there was a large company of tax collectors and others reclining at table with them. And the Pharisees and their scribes grumbled at his disciples, saying, "Why do you eat and drink with tax collectors and sinners?" And Jesus answered them, "Those who are well have no need of a physician, but those who are sick. I have not come to call the righteous but sinners to repentance."
Leaving everything he had behind - his profession, his profits, and his personal identity - Levi began to follow Jesus. We don't know what contact Levi had with Jesus prior to this encounter. We know there were tax collectors who followed John the Baptist's teachings, and we know the people in Capernaum had probably all heard Jesus speak at some point. Levi knew enough that he was willing to leave it all behind to use all he had in the service for Jesus. Levi would eventually write the gospel that bears his name (Matthew), become a fearless evangelist, and according to tradition die as a martyr for Christ.
Following Jesus did not mean simply wandering around and listening to Jesus preach. It meant using his skills and relationships to serve Jesus. Peter had allowed Jesus the use of his boat and time; Levi uses his money and friends to give a banquet for Jesus.
The Pharisees and scribes, already annoyed with Jesus to say the least, begin to grumble at the company he and his disciples keep. Eating with tax collectors and sinners was an easy way to defile oneself, and Jesus was doing it willingly and knowingly.
In true Jewish fashion, Jesus answered their questioning with a proverb. I love it because he is being a bit sarcastic. "Oh, well you know only those who are sick need a physician. And we all know you guys are religiously well, right? So clearly I need to be with these guys who know they have the disease of sin."
In this season of Lent, let us examine our own hearts for the disease of sin that so easily goes undiagnosed, festering and growing like a cancer until it takes over our hearts.
Therefore, since we are surrounded by so great a cloud of witnesses, let us also lay aside every weight, and sin which clings so closely, and let us run with endurance the race that is set before us, looking to Jesus, the founder and perfecter of our faith, who for the joy that was set before him endured the cross, despising the shame, and is seated at the right hand of the throne of God. - Hebrews 12:1-2