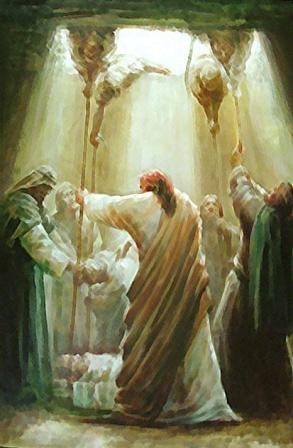 On one of those days, as he was teaching, Pharisees and teachers of the law were sitting there, who had come from every village of Galilee and Judea and from Jerusalem. And the power of the Lord was with him to heal. And behold, some men were bringing on a bed a man who was paralyzed, and they were seeking to bring him in and lay him before Jesus, but finding no way to bring him in, because of the crowd, they went up on the roof and let him down with his bed through the tiles into the midst before Jesus. And when he saw their faith, he said, "Man, your sins are forgiven you." And the scribes and the Pharisees began to question, saying, "Who is this who speaks blasphemies? Who can forgive sins but God alone?" When Jesus perceived their thoughts, he answered them, "Why do you question in your hearts? Which is easier, to say, 'Your sins are forgiven you,' or to say, 'Rise and walk'? But that you may know that the Son of Man has authority on earth to forgive sins"—he said to the man who was paralyzed—"I say to you, rise, pick up your bed and go home." And immediately he rose up before them and picked up what he had been lying on and went home, glorifying God. And amazement seized them all, and they glorified God and were filled with awe, saying, "We have seen extraordinary things today."
Mobs of people continue to seek the miracle worker. The account of this story in Matthew tells us that this happens when Jesus is back in his home base of Capernaum, right after Jesus returned from the land of the Gadarenes where he healed a man with many demons.
As one reads the passage, one wonders why the Pharisees and teachers of the law were there. None of them thought he was the Son of God. Perhaps a few believed he was a prophet because of the miracles. The fact that some had come even from Jerusalem indicates that they were coming to ascertain what was going on. For leaders to have come from Jerusalem the word about the teachings and healing about Jesus must have been causing a stir on a national level. Reading the gospel account from John fills in some blanks. Jesus had begun his ministry in Judea by driving merchants from the temple courtyard with a whip made of cords. And because of his work on the Sabbath and challenges in his sermons to common Jewish theology, many of the religious rulers were looking for a way to stop him.
The "power of the Lord was with him" to heal on this day. Does this indicate that Jesus was not divine? No! Remember that he emptied himself and took on the form of a servant in becoming man. To become man, Jesus set aside the independent use of His own divine power and did only what God willed Him to do through the power of the Holy Spirit.
I love the story of the paralytic, whose friends, seeing that the immense popularity of Jesus prevents access to Him, open up the roof of the house where Jesus is staying and lower their friend directly between Jesus and the religious rulers of the day. The persistent faith of the man and his friends caused them to travel from their hometown (I doubt it was Capernaum or they would have sought Jesus before) and finding no way to push through the crowd to get in, the friends climb to the roof, ascertain where to tear off tiles to be above Jesus, and lower their friend down. (Roofs in the day were made of mud and sticks and were used as an outdoor living space. Some upper class homes would have tiles as well.)
Jesus sees the man and knows his true desire is for forgiveness of his sins. He looks at the man's faith and the faith of the man's friends and tells the paralytic that his sins are forgiven. Perhaps unable to walk and hearing the common theology of the day that his sins had brought about his condition this man had spent countless hours beating himself up over each sin committed in his life. Unlike the self-righteous Pharisees the paralytic was broken and knew He needed forgiveness. Looking at the friends we see a persistent, intense, relentless faith that literally dismantles the roof if necessary in order to reach Jesus. The fact that Jesus sees their faith as well before forgiving the friend is certainly an application that we should fervently pray for our lost friends and family members
The Pharisees had good theology in thinking that only God can forgive sins. All sins are ultimately against God, and Jesus is claiming to be divine in his statement. Such blasphemy is answerable only with death in their eyes.
Jesus perceives their thoughts of hatred and asks, "What is easier to say, 'your sins are forgiven' or get up and walk'?" Of course both are impossible to
do
but it is easier to
say "
your sins are forgiven" because there is no empirical way to test that statement. But if you tell someone to "get up and walk", you will look like a fool when nothing happens.
The man instantly stands up, rolls up his mat, and goes home. Atrophied muscles are made new. Neurological connections that had forgotten how to move limbs are connected as synapses begin firing. No physical therapy is needed. There is instant healing of mind, body, and spirit. "Extraordinary things" is an understatement! Can you imagine the scene as the man calmly
walked
through the door of his home and asked his wife what was for dinner? But I am sure that beyond his excitement over physical healing, he would have told anyone who listened that the true miracle was the peace beyond understanding his his heart as a result of meeting God and receiving forgiveness.
Who is a God like you, who pardons sin and forgives the transgression of the remnant of his inheritance? You do not stay angry forever but delight to show mercy. You will again have compassion on us; you will tread our sins underfoot and hurl all our iniquities into the depths of the sea. - Micah 7:18-19